Radiofrequency lipolysis is one of the newer fat techniques in the cosmetic procedure field. This method utilizes flat instruments placed just above the skin, called applicators, which emit radiofrequency energy to heat tissue to the point of apoptosis, or cell death. Radiofrequency devices require no anesthesia or incisions, which reduces the side effects and risks associated with the procedure. Dermatologists also commonly use radiofrequency technologies to rejuvenate the skin with minimal side effects or downtime. 
Another differentiating feature of radiofrequency-based fat procedures is that besides permanently eliminating fat cells, they also stimulate the production of collagen. Collagen is essential because it helps tighten and rejuvenate the skin, making it look healthier overall. Two of the most commonly known radiofrequency fat procedures are TruSculpt and Vanquish. 
How Radiofrequency Lipolysis Works
After the patient reclines in a flat chair, a nurse will place the radiofrequency-emitting instrument about one centimeter from the surface of the skin. The fat cells are then targeted and heated without damaging any of the underlying tissues. Radiofrequency-induced damage specifically exploits the higher water content and impedance of fat tissue.
Ultimately, fat cell-death is induced by several minute-long exposure to temperatures between 43 and 45 degrees Celsius. The body will flush these cells out via the lymphatic system over a several-week time frame.
Side Effects of Radiofrequency Lipolysis
The most common side effects associated with radiofrequency lipolysis include erythema (redness) and edema (swelling) on the treated body part. These side effects are mild and short-lasting, as the procedure itself is non-painful, and the recovery is relatively easy.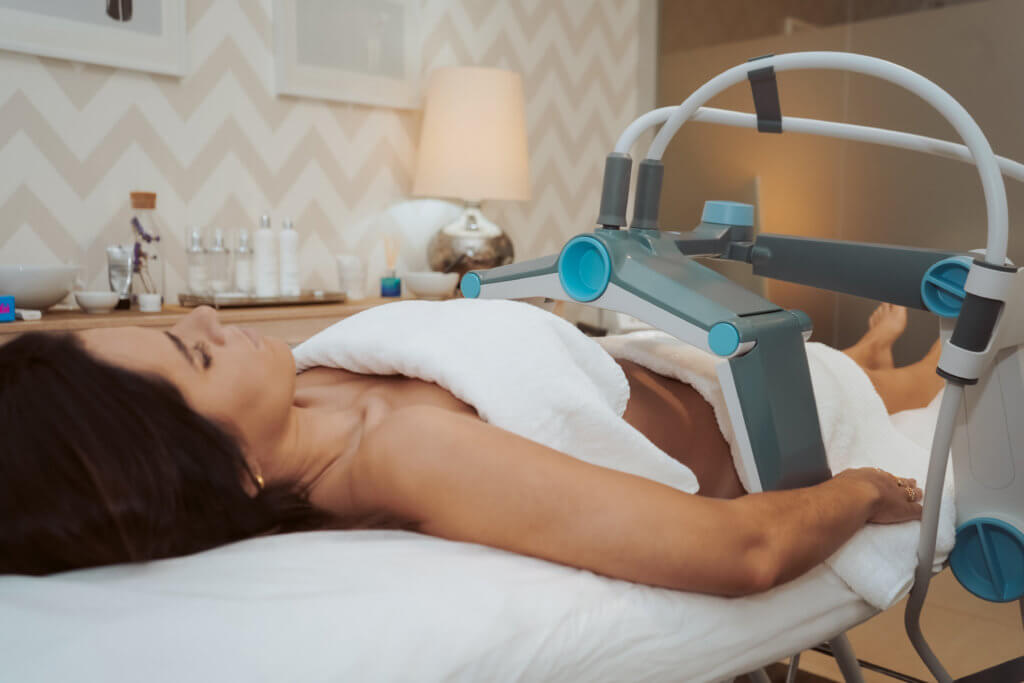 How Many Sessions of Radiofrequency Lipolysis are Needed?
On average, a patient usually undergoes about four to six sessions to treat one specific area. These 30- to 45-minute treatments should be spaced apart by roughly one week, a much shorter wait period compared with cryolipolysis or noninvasive laser liposuction. 
Recovery From Radiofrequency Lipolysis
One of the most significant advantages that this procedure offers is the fact that the recovery time is nearly non-existent. You can go into a session at any point during the day and walk out with no activity restrictions or downtime.
Although there is no recovery time, the procedure does take some time to start showing results. It usually takes about five to six weeks for results to be evident; multiple sessions will likely be done even before you see results. This repetition will accelerate the process and help the patient see fuller and more effective results.
Are Results Permanent?
Just like most other fat reduction procedures on the market, the results are permanent in the treated area. So, the fat cells eliminated in a specific area will never grow back, but if a patient gains significant weight, the fat can come back but in other areas of the body. The new fat looks for active cells to attach themselves, too, so the result of significant weight gain could lead to a disfigured body or shape.